Read About My Anthologies
To purchase my books from Amazon.com, simply click on the Book Cover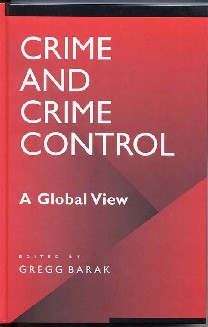 Crime and Crime Control: A Global View, 2000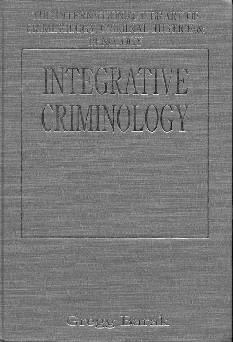 Are crime rates rising or falling around the world? Are specific types of crime more prevalent in some cultures than others? Do different nations vary greatly in their attitudes toward crime prevention? Answers to these and similar questions are found in this cross-cultural examination of the history, public perceptions, and contemporary nature of crime, criminals, and the administration of criminal justice in 15 countries: Brazil, China, Germany, Ghana, India, Iran, Navajo Nation, Netherlands, New Zealand, Nigeria, Poland, Russia, Taiwan, United Kingdom, and the United States.
Contributors include: Gregg Barak, Emilio E. Dellasoppa, Mark S. Gaylord, Hans-Joerg Albrecht, Raymond Teske, Obi N. Ignatius Ebbe, Chris Abotchie, S. George Vicentnathan, Hamid R. Kusha, Jon'a F. Meyer, James Zion, Hen van de Bunt, Ineke Haen Marshall, George Pavlich, Wojciech Cebulak, Emil Plywaczewki, William Alex Pridemore, Mayling Maria Chu, Nic Groombridge, Gary Feinberg.
"Barak begins with an intelligent introduction that, as in his earlier work on Integrating Criminologies, points beyond 'either/or' dichotomies [and] emphasizes that neither global changes nor local cultures have eclipsed the other: both are key to developing sophisticated analyses. [What is also] notable about this volume is that virtually all the authors who discuss individual nation states present informative and often intriguing accounts."
Lynn Chancer, Editor of Theoretical Criminolgy (7) 2: 2003
Integrative Criminology, 1998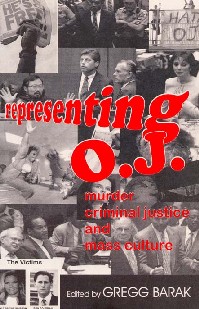 This volume is part of the series, The International Library of Criminology, Criminal Justice & Penology, published in Aldershot, England. Following Barak's introductory essay, "Integration: An Emerging Paradigm of Criminological Study," this 600 page anthology of 22 reprinted "classic" essays on integrative criminology is divided into five parts: I. On the State of Criminological Integration; II. Crime and Integration in Black and White; III. Delinquency and Integration; IV. General Approaches to Integration; and V. Integration and the Future.
Contributors include: Suzanne S. Ageton, Bruce A. Arrigo, Thomas J. Bernard, John Braithwaite, Robert Blauner, Rachelle J. Canter, Lawrence E. Cohen, Mark Colvin, Delbert S. Elliott, Marcus Felson, Paul C. Friday, A.R. Gillis, John Hagan, Marvin D. Krohn, Kenneth C. Land, Allen E. Liska, Richard Machalek, Ross Matseuda, Scott Menard, Robert K. Merton, Steven F. Messner, Terance D. Miethe, John Pauly, Frank Pearson, Pamela Wilcox Roundtree, John Simpson, Jeffrey B. Snipes, Robert Staples, Becky Tatum, Terence P. Thornberry, Bryan Vila, and Neil Alan Weiner.
Representing O.J.: Murder, Criminal Justice, and Mass Culture, 1996/1999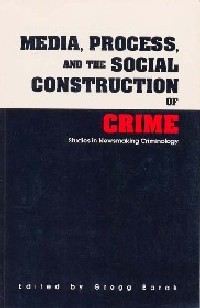 Republished in 1999 as
Media, Criminal Justice, and Mass Culture,
this book represents one of the few scholarly efforts to dissect the Simpson case from a multitude of disciplinary perspectives, including law, sociology, psychology, anthropology, and communications, as well as from the perspectives of class, race, and gender.
"...an important contribution to the growing body of literature on the cultural significance of criminal justice processes and their representation in the media.It is highly recommended...for classroom use."

Melissa Barlow, Violence Against Women

"The authors of this volume, along with Barak's interjected comments, present the student of criminal justice with ideas that are sure to promote dialogue in any classroom setting..."

Barbara Sims, The Journal of Criminal Justice Education
Media, Process, and the Social Construction of Crime: Studies in Newsmaking Criminology, 1994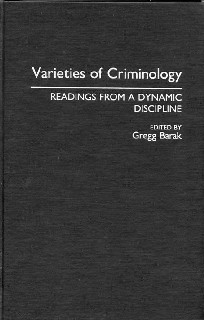 This anthology explores the ways in which today's social problems such as homelssness, sexual assault, or drug abuse can be viewed as politically constructed, ideologically articulated, and media-produced phenomena. The readings examine the day-to-day operations of electronic and print journalists, analyzing how the media contributes to and reflects the dominant cultural ideas about crime and crime control.

"An outstanding book that clearly sums up most of the important research in the area...Anyone teaching a course dealing with media and crime would be foolish not to use this book. It is everything a professor would want--clear, challenging but not too arcane, and scholarly."

Steven M. Gorelick, The Graduate School
City University of New York
Varieties of Criminology: Readings from a Dynamic Discipline, 1994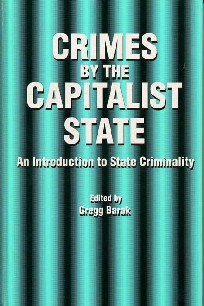 This book captures the full range of criminological thinking today, and provides a picture of a dynamic discipline in transition. Chapters consider contemporary theoretical development and discussion, focusing on street crime, youth and identity, and crime and social control in relation to questions of gender, class, race, learning, socialization, and culture.
Contributors include: Gregg Barak, C.Ray Jeffery, Thomas M. Kelley, Jeffery T. Walker, Velmer S. Burton, Jr., R. Gregory Dunaway, Joseph H. Rankin, L. Edward Wells, Frank Schmalleger, Ted Alleman, Thomas O'Connor, Jeff Ferrell, Mike Presdee, Pat O'Malley, Stephen Mugford, Susan Caulfield, Nancy Wonders, and Dragan Milovanovic.
Crimes by the Capitalist State: An Introduction to State Criminality, 1991
One of the first anthologies to systematically examine a broad spectrum of state criminality including terrorism, torture and murder, drug smuggling and arms trafficking, espionage and surveillance, and violations of globally established human rights.

"It is a lively book that addresses important contemporary issues. It exhibits a comparative/ international perspective, and takes provocative positions on provocative issues."

Tony Platt, Social Justice

Contributors include: Gregg Barak, Kayleen M. Hazelhurst, Susan L. Caulfield, Christina Jacqueline Johns, Jose Maria Borrero N., R.S. Ratner, Daniel E. Georges-Abeyie, Mark S. Hamm, A. Stuart Farson, John Wildeman, Ronald Hinch, and Stuart Henry.
Violence, Conflict, and World Order: Critical Conversations on State-Sanctioned Justice, 2007
Sociology-Criminology-Global Studies
The Conversationalists
Mahin Aski, Gregg Barak, Tom Barker, Robert Bohm, Joan Callahan, Walter Dekeseredy, Jeff Ferrell, David Fredrichs, Carole Garrison, Mark Hamm, Victor Kappeler, Peter Kraska, Ray Michalowski, Karen Miller, Gary Potter, Thomas Reed, and Randall Shelden.
"Violence, conflict, and World Order explores the relationship between globalsing social processes and recent changes in the level and forms of violence, representaitons of these changes, and the varying state responses to them. It pinpoints how the development of neoliberal ideologies and forms of economic and political organization have an impact on a range of contemporary, scholarly, and critical social scientific thinking accessible to advanced undergraduates, graduate students, and faculty. Those involved in Criminology, Criminal Justice, Sociology, and Political Science Programs will be particularly interested."
Frank Pearce~Queens University~Ontario, Canada