Read About My Books
To purchase my books online, simply click on the Book Cover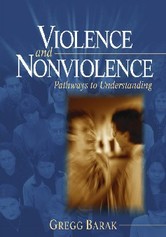 Violence and Nonviolence "is well organized, thoroughly researched, and provides a well-rounded view of violence in all forms" as well as the "different models of nonviolence, models that attempt to restrucure society and the manner in which the community handles violent offenders....However, this book's biggest strength is the frequent use of case study illustrations."
"Various individuals can use this book in a variety of ways for different purposes," including "academics teaching undergraduate and graduate level course work related to victimology, violent crime," and peacemaking; "social workers that are involved in victim services"; "individuals who work with victims of violent crime"; and "legislators seeking new and innovative policy that would attempt to reduce and limit" violence while increasing nonviolence.
Megan A. Reynolds, Critical Criminology (2005)
FROM PREPUBLICATION REVIEWS...


"Barak's Violence and Nonviolence is a thoughtful, comprehensive examination of violence in the United States. Structurally and conceptually this book works. Barak addresses violence in an interdisciplinary way, addressing history, psychology, biology, cultural studies, and sociology. Moreover, Barak does an excellent job of discussing the intersection of race, class, and gender and those relationships with violence."

Heather Melton, University of Utah


"Clearly, the strength of this book is its comprehensive and reciprocal approach. I found this to be an enjoyable and provocative book with the potential to fill a major need for an accessible book that treats the topic holistically and offers a vision for overcoming current patterns of violence. I am convinced that this is an important work that will ultimately be well-received by undergraduates, graduate students, violence specialists, and general readers."

Mathew T. Lee, University of Akron


"I think that the strengths of this book are twofold: Barak's approach disaggregates violence into interpersonal, institutional, and structural violence which is very important yet rarely done; the latter part of the book explores the pathways to nonviolence, an underrepresented area in the study of violence."

Charis Kubrin, George Washington University


"I have devoted close to 20 years of studying and teaching about violence and I must say that this is a comprehensive book... I strongly believe that Barak has done an outstanding review of the extant literature and touches upon key issues of central concern to those of us who are social scientific experts on violence."

Walter DeKeseredy, Ohio University


Integrating Criminologies, 1998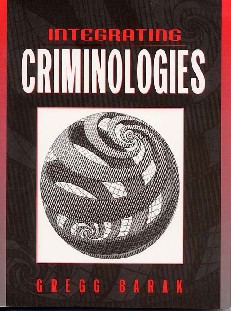 About the third edition:
A decade after its first publication, Class, Race, Gender, and Crime remains the only non-edited book to systematically address the impact of class, race, and gender on crime and all aspects of the administration of criminal justice, including the workers. The third edition has been thoroughly updated and revised to incorporate current data, recent theoretical developments, and new examples ranging from Bernie Madoff and the Wall Street financial crisis to the increasing impact of globalization.
Jeffrey Reiman, William Fraser McDowell Professor of Philosophy, American University
on the third edition...
The authors have revised and updated there excellent critical exploration of the impact of class, race, and gender on criminal justice practice in the United States. As with the earlier editions the book is written in clear, lively, jargon-free language and is an excellent text for students in criminal justice or criminology and criminal justice at all levels. No one can read this text without realizing the depth and complexity of problems that face those who would make our criminal justice system truly a system of justice.
Endorsements for the second edition:
"Class, Race, Gender & Crime...is highly recommended for those who wish to learn more about the complex ways that race, class, and gender condition the experience of justice - and injustice - in the United States. The book exposes the powerful and complex relationship between identity, structured social inequality, law, and the everyday practice of justice. The strengths of the new edition include extended discussion of victimization, criminal justice practice, and policy, as well as the interrogation of the role of law and media in the social construction of difference. Students in my classes praise the text for its readability, conceptual clarity, rich examples, and contemporary relevance- it's an informative and engaging read!"
Nancy Wonders, Professor & Chair, Department of Crimnial Justice, Northern Arizona Univeristy
"Its all here. Barak, Flavin, and Leighton demonstrate how class, race, gender, and crime--four explosive topics we're reluctant to talk about publicly--are interrelated and, more importantly, how these issues affect each and every one of us. For the authors, 'class' is not shorthand for the poor but includes the middle class and the upper class; 'gender' is not shorthand for women but includes men; 'race' is not shorthand for minorities, but includes Whites; and 'crime' is not shorthand for street crime but includes the crimes of the rich and the powerful. Enlightening, sobering, and ultimately essential reading. This is an admirable work."
Katheryn Russell-Brown, Professor of Law and Director of the Center for the Study of Race and Race Relations, University of Florida
Reviews of the first edition:
"Barak, Flavin, and Leighton succeed in constructing an accessible and sophisticated argument that outlines the complex ways that social location affects an individual's interpretation and experiences of and intent regarding justice, punishment, victimization, judicial processing, policing, and media representations of crime and crime control."

Mirelle Cohen, Teaching Sociology
"This book encourages the removal of the social lenses that blind society and its people to the reality of who the true criminals in our society are and defines actions that need to be undertaken in order for the whole society to benefit and not just the few individuals who have benefitted because of special privilege. This book would be appropriate as a primary textbook for introductory-level classes in criminology, criminal justice, and any other of the social sciences. This book could also prove to be an effective supplentary text for graduates in criminology and criminal justice because it views the interlocking social constructs of class, race, and gender that influence the entire criminal justice system and our society."
Bruce Wilson, Criminal Justice Review
ALA Book Award for Gimme Shelter, 1991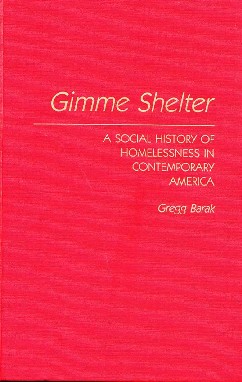 Selected by the American Library Association for the Choice List of Outstanding Academic Books for 1991.
"This book is essential reading for researchers and policy analysts interested in housing- related issues. It is also a useful pedagogical tool for those who teach...courses in deviance, crime and delinquency, social stratification, criminal justice, social problems, and urban sociology."
Walter DeKeseredy, Contemporary Crises
"In a provocative tour de force, Gregg Barak has demystified and challenged what heretofore has constituted the United States government's portrayal of and reaction to homelessness in America..."
Robert Bohm, The Critical Criminologist
"Barak's Integrating Criminologies both summarizes theoretical integration and advances it. This is the primary emphasis and value of the book. Yet, the book is really at least three books in one. It is a book about theoretical integration, but it is also a book about criminology and criminal justice...useful for general classes in criminology and criminal justice, and for specific courses on theories of crime and criminality."
Matthew Robinson, Crime, Law, and Social Change
"...Barak's text is an original, thoughtful, accessible, and insightful analysis, laying out the necessary ingredients for an integrative, interdisciplinary criminological enterprise. From his critique of modern and postmodern conceptual synthesis to his assessment of postmodern integration, to his fusion of cultural, media, and gender studies, to his interdisciplinary approach to crime reduction..."
Bruce Arrigo, ACJS Today
From a review of both of my books on integration (see also the Anthologies page):
"Criminology is on the threshold of a Great Leap Forward. Barak's volumes, the first, a comprehensive text designed both for students and as a provocative challenge to criminology, the second a collection of republished articles in the integrative tradition, provide us with the last two stepping stones to a new criminological order. After reading these pioneering syntheses of criminological knowledge there can be no hesitation, no obligatory lip-service, no more making-the-case for integration. The case is made."
Stuart Henry, Social Pathology
In Defense of Whom? 1980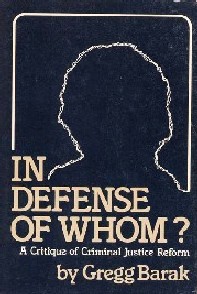 Prepublication Reviews for Criminology: An Integrated Approach (2009)
"The book is beautifully organized, well written, and very interesting. It has a trio of virtues: the author does an excellent job of defining and showing the advantages of integrative approaches. He also refuses to allow readers to separate crime from criminal justice. This strikes me as distinctive and rather original. And I very much like the way he helps us to see how US criminology exists in relation to a a global approach."
Lynn Chancer, Hunter College, CUNY
"Barak provides the first integrated analysis of crime, criminal justice, and criminology through a global lens, revealing the importance of a global perspective for the study of crime and justice in the 21st century. While moving seamlessly from the micro bio-pyschological, interactive-social process to macro cultural-structural forces that shape crime and our responses to it, the author presents the reader with a feast of the latest criminological ideas in this sumptuous tome."
Stuart Henry, California State University at San Diego
"This text is different from what else is out there and in a very positive way. I like the way the author takes on the study of criminology in a novel way, integrating more mainstream theories with perspectives that have received less attention but that are just as important in explaining crime and criminal justice responses. I am also very impressed with the way in which Barak incorporates the new thinking aobut globalization and crime (providing interesting historical context) and adding a critique of the risk perspectives. Overal, this book will be an important text for courses where instructors want to explore different ideas and approaches about crime. It is provocative in a positive way."
Leslie Kennedy, Rutgers University
Criminology: An Integrated Approach, 2009
In Defense of Whom? is a critical anecdote to the liberal interpretation of due process and the origins of the right of the accused to counsel, arguing that rather than the U.S. Supreme Court decision in
Gideon v. Wainwright
(1963) serving primarily to expand indigent defendants' rights, it more importantly helped to institutionalize the system of plea- bargaining as a more efficient and cheaper means of adjudicating poor criminal defendants.
Table of Contents:Introduction,Chapter 1, CRIMINAL LAW/CRIMINAL JUSTICE:The Foundation, Chapter 2, STATUS/POLITICS/ CLASS: The Profession, Chapter 3, THE PUBLIC DEFENDER: Reformation, Chapter 4, CRIME/ CLASS CONTROL: Progression, Chapter 5, THE EQUAL JUSTICE IDEAL: Liberation.
THEFT OF A NATION: Wall Street Looting & Federal Regulatory Colluding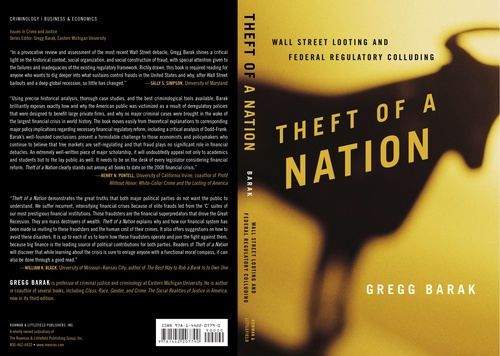 CRIMINOLOGY | BUSINESS & ECONOMICS

"In a provocative review and assessment of the most recent Wall Street debacle, Gregg Barak shines a critical light on the historical context, social organization, and social construction of fraud, with special attention given to the failures and inadequacies of the existing regulatory framework. Richly drawn, this book is required reading for anyone who wants to dig deeper into what sustains control frauds in the United States and why, after Wall Street bailouts and a deep global recession, so little has changed."
—SALLY S. SIMPSON, University of Maryland

"Using precise historical analysis, thorough case studies, and the best criminological tools available, Barak brilliantly exposes exactly how and why the American public was victimized as a result of deregulatory policies that were designed to benefit large private firms, and why no major criminal cases were brought in the wake of the largest financial crisis in world history. The book moves easily from theoretical explanations to corresponding major policy implications regarding necessary financial regulatory reform, including a critical analysis of Dodd-Frank. Barak's well-founded conclusions present a formidable challenge to those economists and policymakers who continue to believe that free markets are self-regulating and that fraud plays no significant role in financial debacles. An extremely well-written piece of major scholarship, it will undoubtedly appeal not only to academics and students but to the lay public as well. It needs to be on the desk of every legislator considering financial reform. Theft of a Nation clearly stands out among all books to date on the 2008 financial crisis."
—HENRY N. PONTELL, University of California Irvine; coauthor of Profit Without Honor: White-Collar Crime and the Looting of America

"Theft of a Nation demonstrates the great truths that both major political parties do not want the public to understand. We suffer recurrent, intensifying financial crises because of elite frauds led from the 'C' suites of our most prestigious financial institutions. Those fraudsters are the financial superpredators that drove the Great Recession. They are mass destroyers of wealth. Theft of a Nation explains why and how our financial system has been made so inviting to these fraudsters and the human cost of their crimes. It also offers suggestions on how to avoid these disasters. It is up to each of us to learn how these fraudsters operate and join the fight against them, because big finance is the leading source of political contributions for both parties. Readers of Theft of a Nation will discover that while learning about the crisis is sure to enrage anyone with a functional moral compass, it can also be done through a good read."

—WILLIAM K. BLACK, University of Missouri–Kansas City; author of The Best Way to Rob a Bank Is to Own One